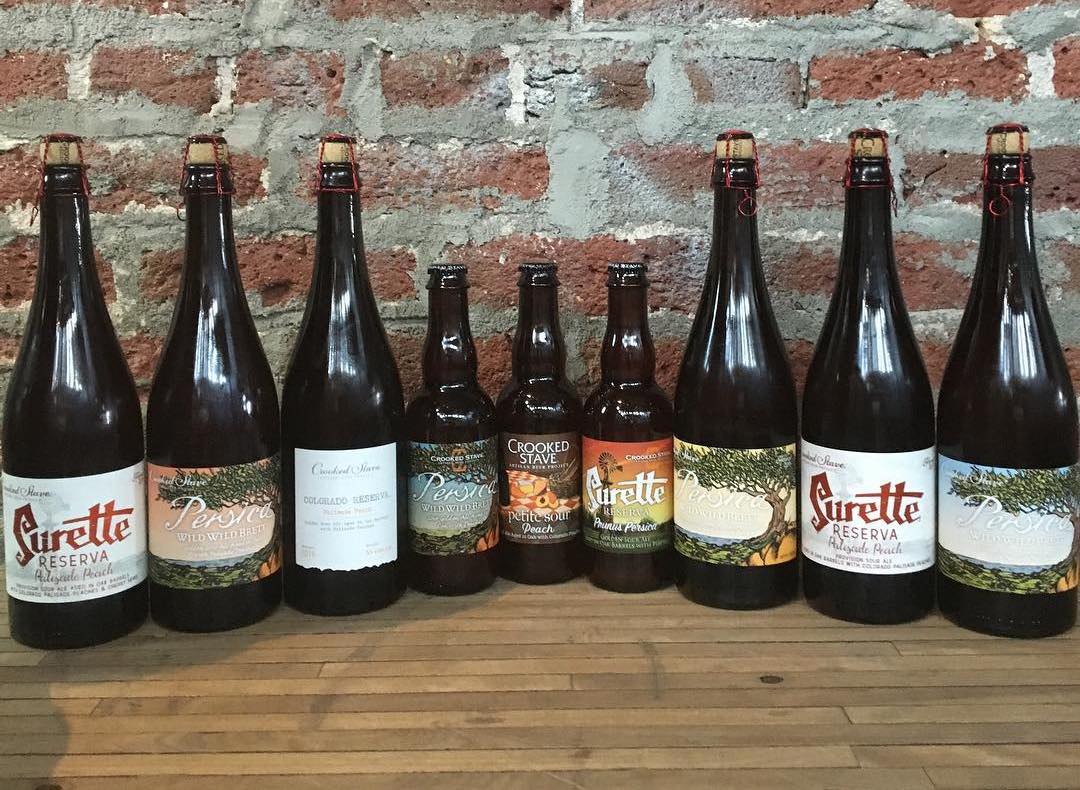 Denver, CO – Crooked Stave Artisan Beer Project is excited to announce the continuation of its Cellar Reserve Membership program for 2019. The brewery's progressive barrel-aged blends will be available in limited releases to Cellar Reserve members throughout the year.
Crooked Stave took a hiatus from its membership program in 2014, due to production constraints. As the company has grown and expanded their production facility over the last few years they are able to once again produce beers for a membership-based bottle club. Crooked Stave successfully relaunched its membership program in 2018 and will continue on through 2019.
The 2019 Cellar Reserve Annual Membership costs $100 and members will receive the following:
·        2 select 750ml cork and cage bottles
·        Customer glass – option to purchase additional glassware
·        Access to purchasing bottles available to Cellar Reserve members
¨       Minimum of 6 brands once a quarter (4x year) priced between $18 – $32
·        10% discount in our taproom
·        First option to renew membership each year
·        Private Online Portal for purchasing and managing membership
·        Option to purchase Cellar Reserve apparel *Not included in membership
The Cellar Reserve will release a minimum of 6 brands quarterly that will be available for members to purchase via the online membership portal. Some past releases include pH2 Burgundy Sour Ale Aged in a Single Oak Barrel, Mama Bear's Tawny Port Barrel Double Barrel Aged in Tawny Port Barrels with Colorado Montmorency Cherries, Nightmare on Brett Super Port Double Barrel Aged in Port Barrels, Colorado Reserva Red Heart Plum, Private Reserve Bourbon Barrel-aged Imperial Stout and Member Berries Syrah Golden Sour Ale Aged in Oak Barrels with Syrah Grapes.
Cellar Reserve beers will be available for purchase to members on a quarterly basis and will be available for pick-up in the months of March 2019, June 2019, September 2019, and December 2019. Members will be required to pick up purchases in person or have a local proxy pick up purchases on their behalf. Members must pick up within 3 months of release date outside of the Cellar Reserve designated release parties.
Beer releases through the Cellar Reserve membership will vary in quantities and will be available to purchase on a first come first serve basis once the releases are opened to members. Bottles will have limits subject to availability and any bottles not sold to members will be available for purchase in the Crooked Stave Taproom at a higher price.
Cellar Reserve memberships will go on sale to our 2018 members on October 15th-October 31st at an early bird price of $90. Regular pricing and new membership sales begin on November 1st at $100. Details on purchasing the membership will be posted on the brewery's Facebook page.
About Crooked Stave Artisan Beer Project
Founded in Denver, CO in late 2010 as an artisan beer project, Crooked Stave is the culmination of brewmaster and "Brettanomyces Guru" Chad Yakobson's open source Master's research, The Brettanomyces Project. Crooked Stave's progressive approach to brewing blends science and art through creativity and passion. The resulting creations, most of which use Brettanomyces yeasts and mature in oak, are beers of extraordinary complexity.