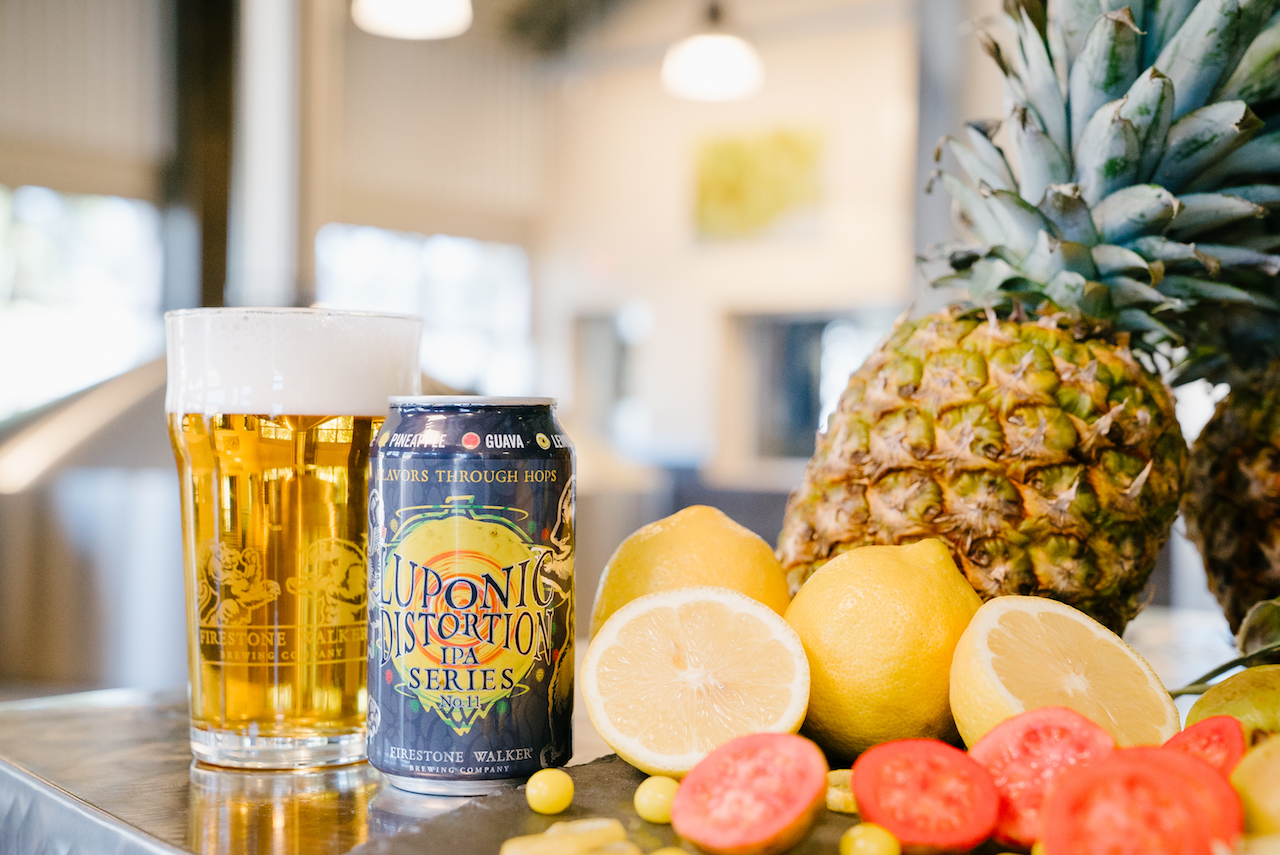 Paso Robles, CA –  The next release in Firestone Walker's Luponic Distortion IPA Series arrives once again without fruits, flavorings or shortcuts—just the magic of explosive fruit flavors from 100 percent natural hops.
Luponic Distortion No. 11 showcases flavors of pineapple, guava and lemon drop, all derived from a cross-continental blend of emerging hop cultivars. It begins shipping to all Firestone Walker markets starting this week.
"This latest release remains in the tropical fruit wheelhouse that we have established for Luponic Distortion, but it brings some exciting new flavors into the fold," said Brewmaster Matt Brynildson.
Luponic Distortion is not a single beer, but rather an ongoing series of beers that rotate roughly every 120 days. While the base beer always remains the same, each release features a different hop blend built around new and experimental hops, designed to showcase the growing possibilities of pure hop aromas and flavors without any assist from fruit or other adjuncts.
From Far North to Down Under
Luponic Distortion No. 11 features a blend of six hops from three continents. The lead hop is a new cultivar from the Pacific Northwest that delivers a distinctive pineapple quality.
"This is a hop that we've been watching for a long time, and it came out of a different breeding program than a lot of the other big-name hops from the Pacific Northwest," Brynildson said. "It's from a different stock that gives it this pronounced pineapple character."
Meanwhile, the beer's guava flavors come from an Australian hop that Brynildson researched during a recent trip Down Under. "It has this otherworldly jungle fruit aspect that just jumps out of the glass," he said. "I spent a lot of time with growers and brewers down there to see what they are doing with it, and that helped me decide how to use it with Luponic Distortion."
Lastly, a German hop brings a distinctive candied lemon aspect to the beer, and true to Luponic Distortion's mantra of "flavors through hops," Brynildson confirmed that "no lemon drops were killed in the making of this beer."
Firestone Walker Brewing Company is a pioneering regional craft brewery founded in 1996 and located on the coast of California. Firestone Walker's main brewery in Paso Robles produces a diverse portfolio ranging from iconic pale ales to vintage barrel-aged beers. The Barrelworks facility in Buellton makes eccentric wild ales, while the Propagator pilot brewhouse in Venice specializes in R&D beers and limited local offerings. For more information: FirestoneBeer.com.